Welfare
Welfare activities in BUBS falls into two broad categories: Outreach and Members' Services.
Outreach
Outreach relates to welfare services extended to the wider community and covers assistance in areas such as financial, medical and emotional support.
1. Limbs For Life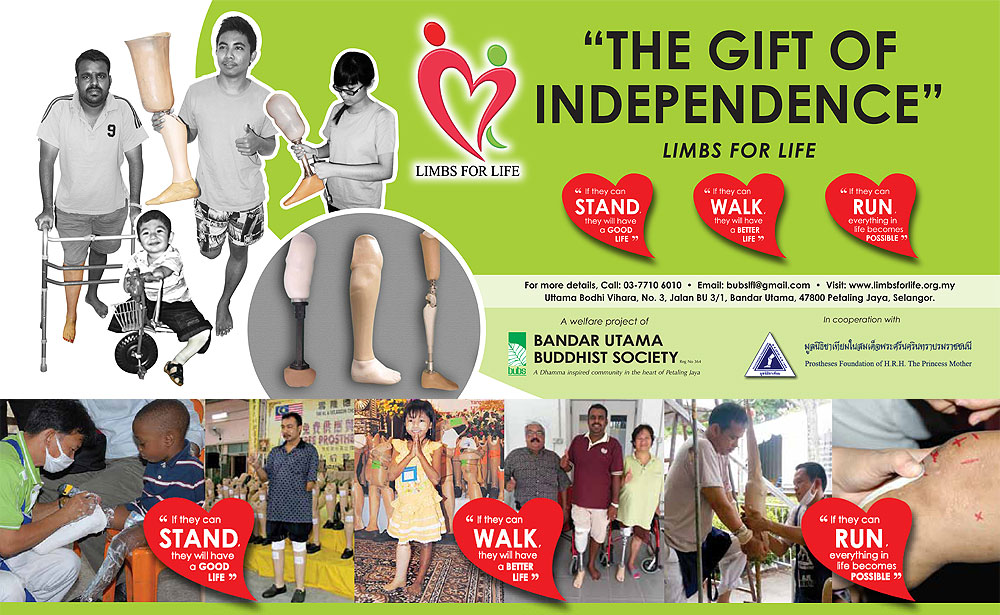 A major welfare project undertaken by BUBS is the setting up of the Limbs for Life (LFL) Prostheses Centre in 2014. Established in collaboration with The Prostheses Foundation of HRH The Princess Mother of Thailand, LFL offers free prosthetic limbs to eligible deserving amputees, regardless of race or religion.
To view a video on the Official Opening of the Limbs For Life Prostheses Centre, please click here.
SUPPORT THIS PROJECT! More details
2. Dhammagiri Foundation Scholarship Project
For many years, BUBS has been raising funds to help in the construction of the Dhammagiri Foundation Orphanage and to provide scholarships and financial support to the orphans.
The Foundation was established by Tan Ajahn Cagino to help orphaned and disadvantaged children of hill tribes living in Mae Hong Son, one of the poorest provinces in Thailand.
3. Welfare Aid
Through the continued generosity of members and friends of BUBS, many adhoc welfare projects in aid of natural disasters like droughts, floods and earthquakes have been carried out over the years. Examples of past projects include the Tsunami Relief fund and the Nepal earthquake fund.
Members' Services
Members' Services encompass membership care and welfare activities such as:
Hospital visits

Support chanting (e.g. house blessing, illness)

Bereavement support

New Year chanting
Fellowship
Many activities are organized each year with the aim of developing closer ties and friendship among our members:
Pilgrimages and visits to various destinations of spiritual significance

Annual Dinners

Annual Kathina Trip to a Forest Monastery